A few simple substitutions can take your meals to the next level. Let's face it… It's really difficult to get my kids, husband (or man child as I call him) or friends to understand WHY I eat healthy, and for them to truly try branching outside of their comfort zones. If it were up to my family, they'd live off of chicken nuggets, mac-n-cheese and fruit snacks. But as I've finally instilled in my threenager, mom is boss, and mom wants her to eat "food that's good for the belly."
Anyway, healthy and kids rarely go in the same sentence, so I've had to improvise. I have a few family-favorite recipes that I can secretly get my kids to eat and enjoy. It's a rare mom-feeling of excitement to see my kids effortlessly enjoying zucchini, so I live it up while I can.
Zoodles
I'm kind of, sort of, really super obsessed with these. My kids love pasta, and trying to sneak greens into their pasta has been an epic fail. I peel my zucchini and make zoodles (using a vegetti) and boil them for a couple minutes, just to soften lightly. Strain, pour into bowls, and serve! I prefer to put a little marina sauce on it and sprinkle with mozzarella cheese, and top (for me) with lean ground turkey. Seriously heavenly!
Homemade bagel bites
Again, my kids are obsessed with pizza, or anything with cheese. But I've actually stopped buying pizza because it's super easy to make from home, with basic ingredients. I buy small (most often plain or whole wheat) bagels (available in my grocery store's bakery section, or you can use any bagels/bagel thins really), marinara (or any flavored jar sauce) and mozzarella cheese and its SUPER SIMPLE. Spread a teaspoon (or desired amount) on sliced bagels, top with cheese (can add veggies if you'd like) and bake in oven or toaster over to desired crisp/golden color. I bake in toaster oven at 350 degrees for 5-8 minutes.
Baked ziti
This isn't necessarily a recipe, more so a few helpful hints if your family loves pasta. If I can't substitute pasta for veggies (spaghetti squash, zoodles, bean sprouts), then I choose whole grain noodles. Try using lean ground meat (turkey, chicken or beef) in your next baked ziti dish, and throw some veggies in! Covered in sauce, the family will have no idea.  I prefer spinach, mushrooms and small broccoli pieces in mine! Then top with mozzarella.
Quesadilla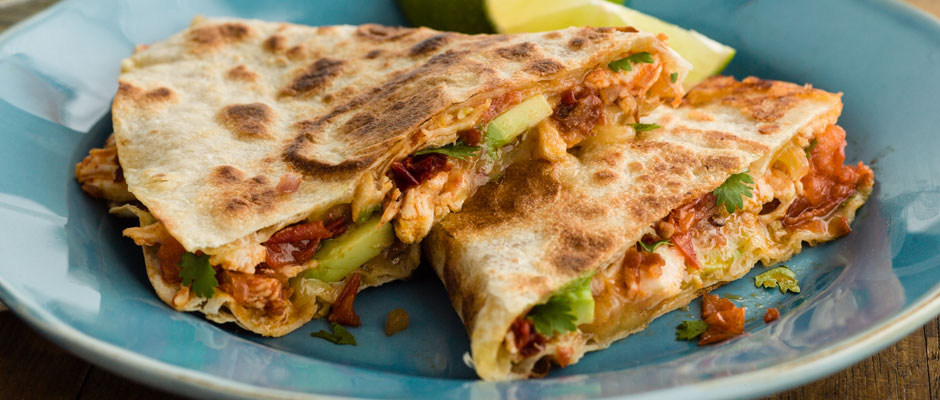 I love Mexican food. I just love…cheese. And I'm pretty sure my entire family could live off of cheese in any form. So quesadillas are a hot seller in my household. I use whole wheat tortillas in 1/2tbs of olive oil, ground lean meat (beef or turkey) or grilled chicken (finely chopped), shredded cheese and throw in some finely diced tomatoes, onion, peppers and mushrooms. Anything melted in cheese is consumed in my home, so this is an awesome way to sneak your veggies in!
I wouldn't consider myself a "cook" or the type to prepare a super balanced family dinner every single night. (No joke, I sometimes make three separate meals to make everyone happy.) But when I do cook, I try my best to make foods I know my family enjoys, with the nutrients I know they need. A quesadilla may not be as healthy as grilled chicken with steamed broccoli, but for picky children, I'll take what I can get!
#1 Way to Naturally Speed up Metabolism: Drink TEA 
Our Teami Skinny is the morning blend that you drink when you wake up! Replace your morning cup of coffee with a healthy and delicious cup of Teami Skinny which can help boost metabolism, raise energy and suppress cravings! This is the first step to doing our detox!